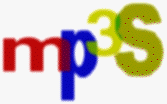 Blaze Media Pro - Play, Edit and Convert
MP3shopping.com: Software/Hardware/News
Access MP3 Newsgroups Here
MP3 Players for Macintosh
Christian-Mp3 Ministries www.christian-mp3.com
MP3RAGE.com
MP3 Boss MP3 Database MP3 Manager with Winamp support
MP3-India.com
integerated mp3 player and music management
MP3 GAGS.Cyber jokes from real comedians!
MP3Shopping.com - Your Digital Music Source (TM)
MP3-Wired
Welcome to MP3 Heaven
MP3 Topsites
mp3 Pirate
Mp3 Dreams
Mp3's, MP3's, and more MP3's!!!
MP3now.com - Ultimate MP3 Resource
MP3 | Easy Search | Brought to you by SaMaRi
Mp3 Sound Zone
MP4music.com - Daily updated MP3 music, software, & links. The best MP3 search
GeoTunes.com: Internet music directory
Hooyaa.com - Buy and Sell MP3's and Video's
mp3 download center
MP3Yes.com, #1 Source for MP3's on the Internet


FEATURED ARTISTS:

Radiant Radish

Maarten

Plasticene



as chosen by our no talent music critic wwwwho:

Plastic Joy with DJ Eric Charles
for their song, "Up In The Dizzco."

Email your URL to wwwwho@yahoo.com to get a listen and be entered into our wwwweekly contest!


BAND LISTINGS BY GENRE:


ALTERNATIVE:

super liquid courage

Ryan McNab
A harmonic mix of rock, pop, and jazz ...

Liquid State

The_Blanks
Amazingly different pop ideas.

Crush
Kinda rock punkeish 

Dickey Moe
Dynamic alternative rock band

Visually Impaired
PUNK

Petrofeen
heavy as hell and ready to take on the world.

michael radowitz (ascap)
An outward look into introspection.

Box Room

The Frequency Bliss
Beatiful, tear-jerking melodies mixed with enough RAWK to make mom proud.

P B S
PBS is an improvisational group that plays emotion.


POP/ROCK:

The Diggs
3 man circus of sound

Randy Sumner
Randy is a rock guitarist and has a tune called "VooDoo Doll" ...

Mike Behr

Uncle Seth

Studio8 
Various pop songs recorded at studio8 in sydney

PEARLCOPPER
one-man progressive rock band

PALM
Modern Original Classic Rock

juliafree
singer songwriter w/ alternative edge

FLESH GORDON
new cutting edge rockact

Bill Van Valkenburg

Steve Grisham formerly w/THE OUTLAWS
Southern Rock fans gotta have it!!!!

children of apathy
marilyn manson on acid.

Aladdin Sane
Music for the masses!

The Emanuele Brothers
Your Superheroes Of Rock


ELECTRONIC:

Dj Papabear

Incandescent Spirit
Awesome New Electronic Music

DJ Krank
very original kind of electronic crap
DJ Smooth
GltTcH
hard edged industro-trip-drum & Bass from Detroit

FREEBASS
dnb house n beats

Juggernaught
Techno/Trance

Alex Swan
Alex is 14 years old, his first CD, "Xtreme Synthesis" of 11 original 
tracks he created & recorded with his Korg X5D aged 13.

ménage a boogie
Quality break beat, drum'n'bass and downtempo tracks from ménage a 
boogie

Plastic Joy

Phatdawg
electronic that's different...

HIP-HOP/RAP/R&B:

Deceased

El Keter
Instrumental Hip-Hop music designed to let you know how Hip-Hop is 
SUPPOSED to sound.

JDJ
Philosphical Hip Hop

Mister Blue
A dirtsy south soulja... representing the true dirty dirty.

Gizza & Tha Whooligunz

E-Nice
 E-Nice is a newcomer in hip-hop having some fun

criminal Damage
bringing lyrical pain from the Dirty South!!

Jawz & Crack
invading your eardrums with Hip-Hop

DJ Megahertz tha RoLLAhOLiCk
by any means neccessary!!


METAL:

Mahavatar

The Fallen Angel
Finnish Black Metal Band

Soulbruise
Soulbruise is the Blair Witch Project of underground music.

A Charnel House
Five-man demolition squad headed by one pisssed off vocalist.


JAZZ:

Bassist Bill Lawrence
Awesome bass player, fusion jazz at its finest!

DEL PUCKETT
Please listen to my #1 jazz fusion tune called IPO...

Fuze


COUNTRY:

Sheila Miller Songwriter

Todd Kirsten

Rustie Blue
people say I have a unique sound with attitude!


WORLD/FOLK:

paul
A minimalist approach to folk rock...

Single Seven
"Godspell". World Fusion tune that blends Middle Eastern and western music.


Get Your Band Listed Here

BANDS: Please report non-working links to vega_tables@yahoo.com - we're still under construction!