Alan Jardine
A Beach Boy Still Riding The Waves
by Ken Sharp

This article originally appeared in Goldmine, July 28, 2000.
It's a perfect spring day in my hometown of Willow Grove, PA, and the musical soundtrack couldn't be any better. The Beach Boys, Family And Friends are entertaining an audience of over 30,000 enthusiastic fans at the Vet Rock festival, a benefit for Vietnam Veterans and local food banks. Judging by the glowing smiles of the exuberant audience, young and old, the groups blissful musical harmonies is providing a veritable feast for the ears. Life is good.
Led by Alan Jardine, founding member of the Beach Boys, the group is sending out waves of good vibrations with an invigorating set of Beach Boys classics and lesser-performed gems such as "Heroes And Villains" and "Girl Don't Tell Me." The group, which also numbers Jardine's two sons, Matt and Adam, Brian Wilson's daughters, Carnie and Wendy, and a host of former Beach Boys sidemen including bassist Ed Carter and keyboardist Billy Hinsche, are reinventing the legacy of the Beach Boys with a surprising freshness, vigor and vitality. Unlike latter-day Beach Boys' shows that traded spectacle over musical quality, the Beach Boys, Family And Friends rightfully celebrate what really matters - the sublime and majestic body of work by Brian Douglas Wilson.
A founding member of the Beach Boys, Jardine has been an integral part of the fabric of American popular music for almost four decades. As American as apple pie and baseball, the Beach Boys are icons of a generation. The band's quintessential sun-drenched sound remains a favorite of superstars such as Paul McCartney, Pete Townshend, Lou Reed, Tom Petty, and Neil Young. The Beach Boys' profound and enduring influence also permeates the soundscapes of more modern groups such as R.E.M., Sonic Youth, Barenaked Ladies, The Smashing Pumpkins, The High Llamas, and many more.
Never hungering for the spotlight, Jardine has always been a team player, more than happy with his supporting role in the band. Yet for the public and press alike, Jardine's indispensable role in the band has been criminally overlooked. A wonderfully expressive and dynamic singer - Jardine is a voice of "Help Me Rhonda," "Susie Cincinnati," "Come Go With Me," "Lady Lynda," "Loop De Loop" and "Looking At Tomorrow (A Welfare Song)" among numerous others - he lent a distinctive and engaging folk sensibility into the group's diverse palette of sonic colors. Lyrically, Jardine's songs provide a wonderful and sumptuous musical storybook, espousing the joys of nature and the environment, ecology preservation and the power of love. While not exerting as high-profile of a media presence as Wilson or Mike Love, the innate blend and distinctive character of Jardine's honey-sweet voice cannot be underestimated to the success of the Beach Boys.
No longer a touring member of the Beach Boys with Mike Love, Jardine has formed The Beach Boys, Family And Friends to serve as both a joyous musical union and a creative outlet designed to further explore both the well-known and lesser-known contours of the Beach Boys' oeuvre. Equally exciting is the new that Jardine is working with his sons, Matt and Adam, also talented vocalists and songwriters, on the first Jardines' solo album.
A humble and charming man, Jardine sat down with Goldmine for a rare and revelatory conversation touching on more than years of good vibrations.
Goldmine: You're no longer a member of the Mike Love touring lineup of the Beach Boys. Tell us about why you made the jump to The Beach Boys, Family And Friends project.
Alan Jardine: We obviously had a difference of opinion. First of all, Carl died. He was the voice and the glue that held it all together as far as I was concerned 'cause Brian handed off a lot of parts to Carl. Brian, being the
introvert that he is, decided early on that he wasn't going to be going on the road... So he began to design parts for all of us. Carl seemed to get the rich parts. Carl and I were always locked in harmonies, the lower two-thirds. Carl would be on the bottom, I'd be in the middle and Brian would be on top. Mike, of course, was the baritone. On the road, Brian would systematically deal out lead singing parts to the various guys, and Carl would get some of the richer parts, some of the great ones like "God Only Knows," "Good Vibrations." Brian would sing those to us on the piano, and we'd hear them singing it and go, "Wow, that's gonna be a great lead for you Brian," and he'd say, "This one's for Carl," or "This one's for Al," because he'd given so many to Mike that it was getting unbalanced, really unbalanced. The Summer Days, Summer Nights album was Carl's first lead, "Girl Don't Tell Me." That song we did on stage today as a tribute to Carl. That was a seminal moment for him. My first lead was actually on the Christmas Album, a song called "Christmas Day," which I still love till this day. My second lead was I think "Then I Kissed Her." Anyhow, we got off the track. Carl's voice [being gone] left a gigantic hole in the harmonies. So by that time Michael engineered a concept of a lighter and freer Beach Boys band, one that could move in a moments notice. He would call it "Beach Boys Light". That was his name for a kind of evolving Beach Boys band that did not include Carl or myself. I found that kind of disgusting. I didn't like that.
So what prompted your decision to stop touring with Love's version of the Beach Boys?
We had a symphony tour lined up for the United States. Lots of interested symphonies that could give our music a breadth and depth that we didn't have before and give them a little extra business they needed. A lot of symphonies were going bankrupt. For instance the San Diego Symphony was in a desperate state, and we were going to do our rehearsal concert there in San Diego. They would get one and we would get one. That kind of deal where they get one for their coffers and we'd get a chance to rehearse and get it underway. And then go to the Hollywood Bowl, get that wonderful place sold out and take it from there all over the country. Carry our charts with us and give them to all the different symphonies.
What happened?
Love steadfastly refused to do it. He insisted that Brian be there, I remember that remark which is not all wrong. I don't disagree with that. It would be great if Brian could be everywhere, but we all have to be realistic. He's not going to be predictable that way. He's got only so much energy for that kind of work. He's not built for it.
Brian never liked to tour.
I think Brian was designing our songs back in the day so we wouldn't have to be dependent on him. Anyway, I suggested that he conduct the concert at the Hollywood Bowl. I thought it would be neat if he could come out and take some credit for all that great work. Anyway, that wasn't to be. Mike refused to do it. I think it would've been a great tribute to Carl. It would have been built around the music, not the messenger. It wouldn't have been built around any one of us.
After Carl passed away, you were still in the band and then decided to leave the Love touring lineup sometime after that.
Right. It became one of those moments. Love continued to tour. He didn't stop touring. He just didn't want to tour in that modality. That wasn't his idea of "fun, fun, fun." [laughs] So he continued to work with his band, The California Beach Band, and he would go out and do dates and have surrogate singers do Carl's parts. I thought that was tasteless. While at the same time not going out with the Beach Boys because of Carl's passing so there's some kind of contradiction in that, in my opinion. In fact, my son Matthew at the time was still in that employ, which I did not disagree with because I don't want him to not be able to earn a living. But at some point it got uncomfortable.
So at what point did you pack it in with that lineup?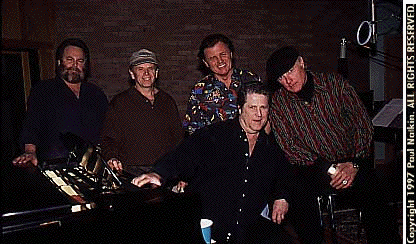 When Mike refused to tour with the Beach Boys. He just refused to tour with us in any fashion. I can't go into detail with you right now, [but] it got reorganized where Love took the band with an exclusive license and I didn't. And Bruce decided to go with the guy who sang all the hits. Matthew had to make some decisions of his own. We decided to form this entity - Beach Boys, Family And Friends, which I felt would more accurately define the harmonies and the vitality of what was missing in the waning years of the band.
What makes Beach Boys, Family And Friends different from the current Beach Boys lineup?
We have the gene pool of the Wilsons and the Jardines that makes it far more interesting vocally.After all, we're known as a vocal group first, and then a band secondly. You just have to get your priorities in order. It's not that Mike is doing anything wrong, it's just that he is doing it his way. And there's maybe this other way to do it. He wants to be party band kind of group and that's okay. There's room for that.
I've seen the band perform over the last twenty years and it seems there was a period where perhaps the music was not as important as the show, that is with the cheerleaders, special guests like Mr. T. It was turning into a...
Three-ring circus.
It saddened me that the Beach Boys' live shows were cheapened by the cheerleaders.
Yeah, I actually got in trouble in an interview I did for a big magazine. I said virtually the same things and Mike got quite upset because I characterized the band that way. But I'm only telling the truth. It began to be a sideshow. Mike reluctantly gave into that eventually. But then I think he was so embittered by that that maybe that's when he began to reinvent the band.
It is true that there existed two Beach Boys entities, the party band and the pure, artistic side - which I much prefer.
Oh yeah, me too. But we like to have fun too. Matt's doing a killer job carrying on the party songs that I don't think I would be comfortable doing. I don't feel like being a frontman. I don't like the frontman thing. Not only does Matt do Mike's leads but Brian's, in the same song, which is kind of unusual. It's like, 'Wow!' that's a range for you. But then in Mike's ban he was doing Carl's parts too, so he was doing three things too.
This is not the first appearance of your son, Matt, with the Beach Boys. He appears on the front cover of the band's Sunflower album.
Yeah, isn't that wild? That's Matt and Carnie on the cover. That was done in 1970. I don't think Wendy was born yet. Wendy, when were you born?
Wendy Wilson: '69
So you were on the planet but not on the album cover.
Characterize what Carl meant to the band not only on a musical level but as a person.
He brought integrity to the band. He was our truth... When you spoke to Carl you just went for the black and white of it. He was a very black and white kind of guy, which didn't always serve him very well, to be honest with you. Sometimes you can't be in this world, sometimes you have to compromise just to get things accomplished. Carl was perfectionist, and he fought for total honesty and integrity in music and he felt that there was no other way. Sometimes we'd have disagreements how to get to the end, but we always got there with respect for each other.
Carl was such trooper, he kept playing with the band, even with his
illness.
Yeah, he really was great.
Do you think the music helped him to keep going?
Oh yeah, without a doubt, I think it kept him alive longer.
Were you aware how grave his condition was?
No. I was shocked. I was so devastated. We weren't included in all of the details of his illness, but I was of the understanding that he had brain cancer and was on the road to recovery. So there was a part of the story that I wasn't told obviously. It was so sad.
When was the last time you saw Carl?
At Audree's funeral. They passed very close to one another. They were so close.
Do you think Carl recognized how special he was as a musical talent?
I think he did. Carl had a definite sense of who he was, oh yeah... He just had this voice, this operatic tenor. Boy, he could just belt out a tune like his uncle Carl. I used to know his uncle. He used to deliver bread for a bakery in L.A., Carl Korthof, Audree's brother. Boy, that guy had such a great voice. He'd sing in that bakery truck when he'd come by and the smell of fresh bread on that truck - those are the great old days. So I think Carl got his voice from that side of the family, obviously. I don't think Murry could carry a tune as I remember. He was just kind of a gruff old guy. Audree had such a beautiful voice. [whistles in wonder] Wow! She had the voice, she played organ at home. I shouldn't say Murry wasn't talented, it's just the Korthof side of the family seemed to have that musical gene.
What do you miss most about Carl?
Oh, just his balance. Without his balance and his center of energy the whole thing just flew apart like a fly wheel without a whatever. What I miss most abut Carl is his friendship. Phone calls, getting together for dinner. We'd always go out for dinner.
Let me ask you about your role with the Beach Boys.
Carl and I were the anchors in the back.
Did you want more recognition?
No. No way. I was happy. We locked, our harmonies locked, that's all I cared about. Carl and I had a really good blend.
Eric Carmen once described the Beach Boys' voice as each being an instrument: "I think Brian was a French horn, Carl was a flute, Al Jardine a trumpet, Dennis a trombone, and Mike a baritone sax before their present incarnation as the Beach Boys."
Yeah, that's a good point. That's kind of how we saw ourselves too. In fact, "Heroes And Villains," at the start, was one of the first things we ever did, really early on, even before we recorded "Surfin'." We were working on that song way back in '61. We all became instruments for Brian's barber shop concept. He said, "Let's all do this, let's sing this idea." Carl would be one instrument, I'd be another. Mike would be another instrument.
So the idea of "Heroes And Villains" was born back in '61.
Yeah, the idea, not the song. We started singing a capella first because we didn't play instruments. With none of us really being players, we would just scat in the car going to a show or something or going to school, anywhere.
Was it pretty natural where each member would find his place singing harmonies?
Instantly. And Brian had this wonderful gift for remembering lines off of records. He'd pick up harmonies off of Four Freshmen records and he'd just feed them right back to us. We'd go, "Woah!" and like a sponge, we'd just absorbed it.
Were you a fan of the Four Freshmen as well?
Oh yeah. They did everything. They played all the parts. They played their own instruments. They sang. I mean it was a little bit sappy in a way too. When I say sappy I mean it in a good way. Saccharine might be a better term. Wholesome. But boy could they sing harmonies. Bob Flanagan, his soprano was incredible.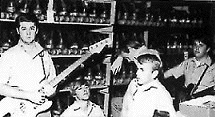 It's unbelievable the amount of pressure on the band, especially Brian as the main songwriter.
He had a lot of pressure. He had no time to rest. And he also never had a chance to enjoy his achievements. We were always being thrown out there on the road to support the next album.
How would Brian teach the band a new song?
He'd simply play it to us on the piano. We did "Wendy" in 10 minutes. And it was like "Boom!" That was a big song. He stopped doing one thing and went right to that and it was like, "Bang!" Come to think of it, maybe that track took 10 minutes to do and then the vocal track didn't take much longer. We laughed a lot in the studio. They were great times.
At what point did you recognize the musical side of Brian?
I saw him in concert once at a high school auditorium show with a couple of friends of ours. I think Carl was in it. Carl substituted for somebody who couldn't make it because he had an epileptic fit... So here comes Carl, this little pip squeak of a kid, playing in our auditorium. I asked Brian who he was and he said it was his baby brother.
Were you impressed with Brian's singing?
Oh yeah, right away. They were doing those Four Freshmen harmonies. He was copping those licks even then. And I went, "Man, I like that sound." But I do remember thinking that I've got to get to Brian and get together with him. I wanted to find him. At that point I was playing guitar for a couple of years. I had my own band, The Islanders. I have a good memory of those days. It was a lot of fun. It was real innocent, Kingston Trio-based music. It was so nonviolent and so melodic. We did have one song that the guys and I wrote together that was pretty good. It was called "Lonely Islander." It was really kind of nice. It has a nice melody. I've often thought about reinventing it. I tend to love those island songs. In fact we have an island song in our Jardine catalog. It's really nice, it's called "Islands In The Sun." God, it's really beautiful, but I don't know if it fits with the time. The kind of music that's out now is more progressive. It has that "Kokomo" essence to it. My favorite Beach Boys island song is a little-known tune called "Island Girl." I love the intro. It was the last time that Carl, Brian and I sang an a capella fugue together straight form the heart. We invented the parts right on the spot. I only had a half-hour with Brian. It was during the Gene Landy conservatorship period, and he gave me Brian for only a half-hour to do the song. [laughs] Talk about pressure. But it had great primal energy.
It's said that your love of folk music was the impetus for the Beach Boys going into the studio for the first time with Hite Morgan and recording "Surfin'."
We went in the studio quite early on with the intention of recording a couple of traditional folk songs. Brian had come up with this tune shortly before going down to the studio, this surfing idea. The surfing idea was actually Dennis' idea. Brian prepared this track bed called "Surfin'." I played stand-up bass on it. My mother had to rent the equipment because the Wilsons had gone on vacation to Mexico and the food money was gone. So we had to go and beg, borrow and steal from my mother, who came up with 300 bucks. That was a lot of money in '61. That was a hell of a lot of money. She just told me recently that she borrowed that money or got a loan from the bank, which surprised me. But I never really questioned where she got the money from, I just thought she lent us some of her salary. But that probably would have been a month's salary. We cut "Surfin'" real quickly. We did it all at one time. We sang and played. We just stood up in front of the microphone and basically played the song for Murry and the publisher and that's the one they liked. And we did Bruce Morgan's song. Hite Morgan's son, Bruce, wrote this song called "Luau." It was kind of a cute song. The single was on two labels, X and Candix Records, which must have been the same label when you think about it, just two different ways to steal money. They only paid us $900 in royalties for the whole thing, so they definitely buried a little money. They probably paid us on the one label, the one that sold the $900 worth, and kept the other label's worth somewhere in a vault. Murry added $100 to the check to make it an even $1,000 so we could each get $200. That was very nice of him.
Was it amazing to hear the completed song back over the speakers in the studio?
I don't think we heard the playback. We were pretty rushed [laughs]. I believe that was Murry's prerogative. Being young, we didn't think very much of it. I think it was a money thing - we had just an hour and we had to get up and leave. The clock was ticking away [laughs]. Next time we heard it was on the radio, and that was the exiting part. We were going to Camino at the time and Brian and I would run home at lunchtime to my mother's house and listen to it on the radio.
I heard Carl got so exited to hear the song on the radio that he threw up.
[laughs uproariously] That could be, that could be. Aw, that's very funny. [laughs]
There's a great quote from you saying, "When the Beach Boys started I wanted us to be a folk group. As it turns out the group has become America's balladeers regarding music, the folk myths, the experience of this country." Speak about the folk element you brought into the band.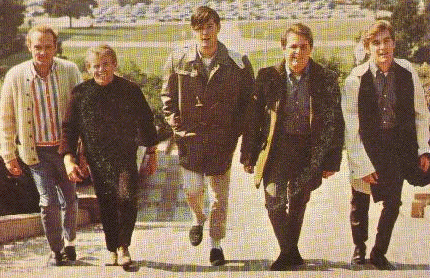 We became the storytellers, but it wasn't just my story. It was the story of the generation, an innocent generation of kids that hadn't;t really been through a major war. We were a postwar generation. I was born right after World War II started actually. Never went through any conflicts. All we knew were the good times. We didn't know about anything bad but getting good grades in school and winning lots of football games. That was our reality. Our reality was very pure. No drugs, nobody smoked. God, if you smoked they cast stones on you. Carl actually did start smoking early on and it drove Brian and I crazy.
Was Dennis the band's rebel?
Oh yeah, Dennis was the rebel. I guess Dennis must have smoked, but it always seemed to me that it was Carl who had started smoking around the sessions and it was Brian going like this, waving his hand, "Carl, get rid of that thing! I can't stand it." Finally I think Dennis caught on to smoking as well, like brothers will.
Dennis wasn't originally going to be a member of the Beach Boys, right?
Yeah. He wasn't even slated to be in the band. We asked him to leave because he was such a rebel. But because Audree broke down and couldn't handle it, we said, "We can't do this. It'll ruin the family's peace of mind." [laughs] And Dennis turned out to be a really great drummer, a really great force. But he was always, always stirring the pot. He was one of those guys who could never stay still.
Were you surprised at how Dennis blossomed as a songwriter and artist?
Oh yeah, I like his music better than some of our stuff. When I listen to his music now it's like, "God, that's better than anything we've ever done."
You mean his 1977 solo album, Pacific Ocean Blue?
Yeah. I just like it. It's strong, original and melodic. Great production. Of course, you can thank Jimmy Guercio for that because Jimmy believed in him too, and he really made it great.
Having a writer like Brian Wilson in the band, were you intimidated presenting songs?
It was intimidating, oh God, yeah. When I brought "Sloop John B" to him I was almost trembling. I was thinking, "Am I wasting Brian's time doing this?" But apparently not, because the next day he cut the track on it and it became a huge hit for us. But he didn't bother to stop to acknowledge it, you see. When guys have that kind of capacity for absorption, sometimes they don't acknowledge where they get their ideas from. And I do that too. I'm sure that i borrowed melodies form other songs that I'm not even aware of. But Brian has forgotten the origin of my contribution to "Sloop John B" as distinct from the folk song. I showed Brian the chords and he sucked it up like a sponge. With his immense talent for recall, the next day he had arranged a brass section to track the song, and it was ready fro singing the following day. It is truly a masterpiece.
You also brought in "Cottonfields."
Yeah, but that was just a watered-down version of "Sloop" [laughs]. But there's only one or two of around, and they're gems and we put our style on it.
Was Brian welcome to the input of others in the band?
Oh yeah, he was welcome to it, but we didn't really want to impose our ideas on him. Now Mike was different. Mike was happy to impose himself on Brian, and he would do so actively around the microphone. "I don't like this word, I wanna change this word." "No, this doesn't fit, let's do this phrase here." So he was always adding his own values as if it were a competition. I didn't want to impose my own values on him because it was working. Why change it? If it ain't broke, why fix it? Mike stresses competition as if it were a virtue, and Brian would rather switch a lyrics than fight over it.
When you quit the band early on to go to dental school, how long were you out of the band before you returned?
When I left things were happening for the band. Big time. We had already cut "Surfer Girl," "Surfin' Safari." We had worked on "Surfin' USA" at the piano, but we hadn't recorded it. So I knew what was in the can.
What brought you back into the Beach Boys?
Just before the summer of '63, Brian called me and begged me to come back into the band. By then i was kind of fed up with school, and Brian was feeling pressure form Murry to tour to support the album. He sent me a dub of the new single, "Surfin' USA" backed with "Shut Down" to help me prepare for the tour. I had already worked on "Surfin' USA" in its inception so I knew that quite well, but I had to learn "Shut Down."
Was David Marks out of the band at that point?
No. I replaced Brian. He was a very secretive person. He'd do things and then he'd tell his dad later. [laughs] ... I don't think he told Mike or Murry. Brian didn't want to tour anymore, and he needed the voices that we'd started with 'cause David didn't really sing that well. The harmonies started to get more complex. "Surfin' USA" was a big challenge, and Dennis sang my parts when I was gone. See, Dennis wasn't singing either, until I left. And then he started filling in for me, which was nice. He had an innocent, warm sound. And then David would play rhythm guitar, that was about the extent of that. I came back and I felt uncomfortable because then Dennis wasn't singing anymore, and I always felt real bad about that. That was a real shame. Dennis put all his efforts into drumming, and also he hated rehearsals. [laughs] It got him off the hook, so I shouldn't have felt bad. He was able to go out and party and drive his cars. Actually, at times we went off and partied in my 1950 Ford, but I don't know if we ever made the beach because the damn thing was breaking down [laughs]. But we must have because Dennis taught me how to surf in front of the Hyperion plant, a sewage treatment facility in El Segundo. It must have been the dirtiest water in Santa Monica Bay [laughs]. Anyway, Brian was literally forced back into the band when David left.
Was David fired because of Murry's dislike for him?
No, he was being a total jerk. [laughs] Murry just did what any manager would have done. It was getting very divisive. David was only 13, might have turned 14 by then. It was rough. My twin boys are now just 13, and I can't imagine them handling that kind of pressure. David's a very nice guy now by the way, he's a really neat person.
Was success what you imagined it would be? The band never stopped in the '60s, touring and recording. Everyone in the band was working themselves into the ground.
Yeah. Everyone but the lead singer and the drummer. Mike would always be looking at his watch. "I'm way too busy for this, get your parts together." So they'd set up a separate mike for him and he could tool of while we were out there grinding out the parts singing these millions of songs and basically split.
And Dennis?
Dennis didn't have to do diddly. He was off the hook [laughs] for vocals. He would put on the drums, but after a while we had studio musicians playing so he was - not to take away anything from Dennis because boy, he sure showed us what kind of writer he became. Everybody's got their time. My theory is you've got to know your own true value and just hold on to those values because at some point your going to be able to express those values. Timing's everything.
The band's output at that time with Surf's Up and Sunflower is rightfully acclaimed as some of the group's best work. But the albums were not being accepted on a major commercial scale. How did you deal with that?
It was just another element of change, the metamorphosis. We were always up long hours. I remember never getting any sleep [laughs]. And he was around, this kid here, [Matt]. He was just born and he never slept, so i was up half the night with him and in the studio half the day and on the road half the year. It was a pretty busy experience. Matt was a great kid. He just didn't sleep those first two years.
Do you view the Surf's Up, Sunflower period as a watershed of creativity as a band?
Yes. We were forced to go into creative hyperspeed because Brian was retreating in the opposite direction as fast as we were in the other direction. Carl and I had to piece together "Cool, Cool Water." That song was a 48-hour mixdown. I saw two sunrises on that. Bruce and I were just delirious and desperate. We were all just walking around like zombies. So weird. How could anything take so long? And we had to reconstruct Surf's Up because we couldn't get Brian to finish it. So Carl ended up singing half of it and we kept Brian's original verses. And I think Carl sang the middle parts. It was like reconstructing the Smile album in a way. That's what that period kind of represented.
The rest of the band started to take over production duties - Carl, in particular, did a wonderful production job on "I Can Hear Music." Did Brian ever compliment the band on one of your own productions?
No, no [laughs]. We were using his house, we were in his living room. He probably should have insisted that we pay rent or something. But he didn't care. It kind of bugged him after a while that we were thumping around the house so much and Marilyn started getting a little tired of it.
Matt Jardine: It seemed like Brian was so burnt at that time, the touring, the manger, his dad, the music.
He must have been exhausted... We were working on "Heroes And Villains" just prior to his withdrawal and we were excited. Actually Brian was so excited, more excited than the rest of us about the way "Heroes And Villains," the single, had come out. We went down to a radio station, I think it was KRLA, and burst in on the jock and played the record. Brian wanted to be the first person to play it for L.A., for the whole city to hear it, and it just didn't have any punch. There was no sonic value in it. The song was great, but the sonic value was bad. We were experimenting in the studio with limited equipment. We had just finished "Good Vibrations" in Columbia Studios with the greatest equipment ever made at the time, state-of-the-art limiters and compressors and equalizers and the most exotic microphones and state-of-the-art recording machines. And the next thing we did is we decompress and we take the Beach Boys P.A. system, take it home and break it down. It was designed by our engineer, set that up and used that as out playback monitors and rented a 16-track machine. And that was our studio. So no matter how good you are, it's gonna be limited to the equipment that you are able to record with. I'm trying to figure out how why we went from United-Western and Columbia to Brian's living room. I'll have to ask [Steve] Desper, our engineer about that. It must have been a conception of his and Nick Grillo, our manager at the time. There must have been something related to costs. It was certainly costing an arm and a leg to record at these studios. So "Heroes And Villains" had no sonic energy, I can't explain. If you listen to the record it's kind of flat. The mastering maybe could have helped. I don't know if it was mastered properly. All I know is it took a while for it to kick into gear. Anyway, I think that really deflated Brian. I think he just completely went into tailspin, because he thought that was his masterpiece. An I did too. I really thought it was great, but I could hear the difference. I could hear the edge was gone. There was no edge on the vocals, there was no edge on the track, there was no edge on the piano. In fact we didn't even have the piano that we started with which we used. That tack piano is the key to the whole song. If you listen to our first o set, it had a bunch of permutations of "Heroes And Villains." And sonically you hear where it's going, and we just never get any closure. It's a lot of loose ends. So finally we got closure, but we lost the sonic part of it. We lost the value of the musicianship. Then I think we had these crummy instruments too. I think we had this Baldwin organ, a beautiful organ, I shouldn't say crummy. The Baldwin organ company decided to give Brian his organ, very nice. But Brian became so obsessed with this organ that everything became focused around this organ. "The Woody Woodpecker Symphony," I don't know whether you've heard that one. [laughs] That was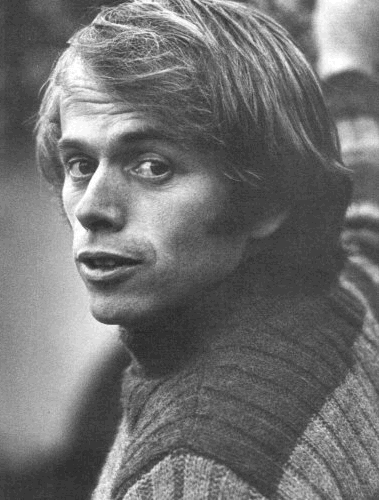 brilliant actually. I loved that. There, that one fit the organ. But every darn song on the album we had to have the organ on it. It was one of those very strange things. Brian got very quirky. And "Heroes And Villains" was played on that damn organ, and I didn't like that sound. It was just a bit much. I think that's where the musicianship became strange. Western Records is where I think we did the track for "Heroes" in studio three with this great tack piano. It could have been Columbia. Both studios were really important. I think we used Columbia more for the vocals for Pet Sounds and Smile and we used Western for the track.
Would the band be constantly rolling tape?
Yeah, oh bother. There would be people rolling tape behind people rolling tape, that's how some of these bootlegs have gotten out. Secret tape machines running in different rooms when you're mastering. It's unbelievable the piracy that's going on. There's bootlegs out with complete recordings of whole albums. People were running two-track machines while we were mastering in another room, and they were taking it. They were just as good as masters. [Steve] Desper explained it to me. It's gotta drive poor Capitol Records crazy. I feel sorry or them, but well, hell, they made a shitload of money. And we're losing money too aren't we? [laughing] Because we don't get paid on those.
Brian had a major breakdown on a plane and decided to quit touring.
He broke down on the plane right next to me. He started just getting very emotional. He started weeping. He was just very weepy and wanted to go home. He'd never been that way before. He was a strong guy, a good pal.
It was the amazing pressure getting to him.
Oh yeah, God almighty. I could have broke down myself. We were all just exhausted, but we were all just a little tougher, that's all. He had a real emotional breakdown.
Were you surprised in Brian's sudden jump in creativity?
Yeah, I couldn't figure it out. We came back from Japan, and here we had this massive amount of music already laid out for us to sing and we hadn't even heard any of it. It was the Pet Sounds material. That's really where I noticed it.
Do you like the Pet Sounds material? Initially, I understand Love was confused by it?
Oh, Mike was very confused by it. I wasn't exactly thrilled with the change, but I grew to appreciate it as soon as we started to work on it. It wasn't like anything we'd heard before it. I already had a lot of classical music in my household. I already had an appreciation for that. My parents were musical. Both of them played in the orchestra, violin and clarinet. I'd bring this stuff home and play it for my folks and go, "Isn't this great?" They said, "I don't get it, but it sounds great." Elmer Bernstein said the same thing.
The Pet Sounds album did not stick with the formula.
Yeah, Mike's a formula hound - i it doesn't have a hook in it, if he can't hear a hook in it, he doesn't want to know about it.At the time there was some seriously good music that wasn't getting heard because Capitol Records wouldn't promote it. They couldn't accept it. Nobody really accepted it. Capitol hated it. I know it. They wanted some hit records. We were a hit record machine and we stop delivering those big hits. Except for "Sloop John B." I think they forced "Sloop" to be on the album because it was already a hit. They slipped it on there to increase album sales. Capitol didn't like it at all. They weren't too wrong either [laughs] because after that we had the Smiley Smile thing and it just started to go downhill from there.
England was very supportive of the band during the Pet Sounds time. Everyone from Paul McCartney to Pete Townshend was praising the album.
"Good Vibrations" wasn't on Pet Sounds. It was kept of the album on purpose to be the lead track for Smile. That was a big mistake because Smile never happened [laughs]. Isn't that weird? We disagreed vehemently on that and thought it should go on Pet Sounds.
Do you still think it should have been included on the record?
Of course! Are you kidding? Then Pet Sounds would have been a hit in it's time. I think it would have finally pushed it over the top.
How did the arrival of the Beatles onto the music scene impact on the Beach Boys?
We were out of the country when the Beatles first burst on to the scene. I wasn't that knocked out by the Beatles when I first heard their stuff. I thought it was just a little esoteric. "I Want To Hold Your Hand." I though that was just a bit esoteric. It didn't seem like they had the mass appeal that we were having, but I was obviously wrong. I grew to appreciate them. Later on in their career they were writing great melodies, extraordinary songwriting. We felt in competition with them. We were out of the country, and they came in and became big hits. It was a catch-up time after that for a long time.
Do you miss singing with Brian?
Of course! God, geez, the guy that taught us everything? The guy gave us everything we have. It's pretty damn strange. So there is a deep love. We all love Brian. I do love all our songs. Sometimes I can get too clinical about the mechanics of everything.As far as working on "Good Vibrations" it was a labor of love and "Wouldn't It Be Nice." I'm just getting to like "Wouldn't It Be Nice."
Really? Why?
I appreciate it so much now because of all the voices that the children in the band [Beach Boys Family And Friends] bring to the music, now I can hear it again. I can hear the music, and that is just so cool to hear all the parts again. On stage we could never sing all the parts because we didn't have enough voices. And the voices didn't get any better with age. I mean honestly, even mine, I'm a little rough.
I beg to differ - for example, "Loop De Loop," which appears on the new Endless Harmony compilation. You redid your lead vocal, and it sounds terrific. Why did it take almost 30 years before it was officially released?
The contribution that you asked me that I made to the Beach Boys is I see myself as a kind of completer of things. "Loop De Loop" was Brian's idea to begin with. I fully admit that the genesis idea came from his brain, but he refused to finish it. He would just leave it there dangling in front of you and you'd go, "For God's sake, this is too good to leave unfinished." So I took it to the pint that I could and realized without Brian it wasn't good enough to be released, so that's why it didn't get done for 30 years.
But you always had a soft spot for the song?
Oh yeah, yeah. But it was Brian's falsetto that I couldn't get because Matt wasn't old enough to sing then, and I wasn't happy with my part because it was built for Brian's range. And he refused to sing those falsettos. He just didn't want to sing much at all.
What was your reaction to the Smile material, which made the Pet Sounds stuff seem very straight forward?
We were working on Pet Sounds and all that stuff at the same time. That's probably why it seems like a year out

of my life without sleep. I like the Smile material. I like everything except crawling around on the floors snorting like pigs. The swine section. I hated that. Everyone was high but me. I was the only one that didn't take drugs. I was the square, so Brian made us crawl around on the floor and snort like a bunch of pigs on a section of "Heroes." You hear a bunch of snorting and swining... It was like being trapped in an insane asylum. I was emotionally depressed by a lot of that stuff because to watch people go through that and you have to kind of make like you're part of that but you're not, you're sober... But somehow we got through it. Nobody overdosed and everybody made it through it.
There's a mystique about the Smile album among fans. Do you think the album should come out or stay on the shelf?
It's not finished. It shouldn't come out. It's just all these fragments. "Cool Water," "Surf's Up," "Cabinessence" - there just all over the place. But then there are titles, I remember the titles like "Barnyard." I liked "Barnyard." I thought that was neat. I have an acetate of that.
Van Dyke Parks lent a very surreal and literary approach with the lyrics on Smile, very much the antithesis to Mike's Chuck Berry lyrical style.
I loved Van Dyke's lyrics. I just loved how he painted the songs with words. His ideas were great. I didn't care what they meant. It didn't matter to me. Love was always trying to pinpoint Van Dyke saying, "What does this mean?" And he would go, "I don't know, I was high." [laughs] Mike would go, "That's disgusting. That doesn't make any sense." [laughs] But it didn't have to make sense, it didn't have to have a hook. If it works, it works.
When you sang lead on "Help Me Rhonda" I understand you had a hard time getting the vocal right. Why?
I did have a hard time with it. I don't really know. Some kind of meter thing in there. I never really tackled a lead much before. I was always interested in the backgrounds. Carl and I were always on the harmonies, but to take a lead was a big leap forward. And this was not an easy lead, to be honest with you. It was pretty different. I was happy that Brian asked me to sing the lead. Brian had this idea of how he wanted it and I had an idea of how I heard it, and that's basically what you get [laughs].
What would he be looking for in a lead vocal - emotion, intonation?
All of it. I think the part that was hard was [sings "Rhonda you look so fine"], the length of "fine", that was the part, to be specific with you. It could have been sung quicker or longer, and I just heard it longer and he heard it shorter. I think it kind of came out halfway in between [laughs]. The hardest part was dealing with Murry and everybody in the studio. They were fighting among themselves over the production and that was really tough. I was out there for hours.
Murry Wilson is viewed as a very difficult character. Obviously he did care and love his family deeply. What did he bring to the mix?
Well he had a child prodigy on his hands. He simply had a limited ability to cope with it. Murry was a salesman. Draw your own conclusions. Always selling something. Very aggressive and tough-minded. Taskmaster.
Was Murry as tough on his sons as reported?
Oh yeah, tough. He just didn't have a sensitivity that Brian and the boys needed. These kids were real tender-hearted kids, except for Dennis... But Dennis did have a tender side. He exhibited the tough side because he was like his dad, exterior wise. You had this dichotomy going on in the family. Audree was real soft and nurturing and Murry was real tough, like a bull.
Was Murry a good manager?
Probably not. I'm sure we could have done better. Don't mix family with business. That's probably the worst thing you can possibly do, management-wise. Just to manage a group, I wouldn't want to do it.
And how do you fire your dad?
You can't. The whole thing is impossible from the beginning. He should have let the reins go and allowed someone else to do it and stood back and let it happen.
This must have been a difficult situation when the group had to eventually fire Murry as your manager.
All three of the boys went home and took care of it, that's all I know. I'm sure Brian took the brunt of it.
Did you have a good relationship with Murry?
No, not really. Murry did have a big heart too. I think he wanted to like me, but he was mad at me for first of all quitting the group and then coming back and letting Brian stay home. And then I think he appreciated me more because he realized i was helping build the musical foundation for the group. But at first he was really angry with me.
Was Murry's relationship with Mike similar to yours?
I'm sure they hated each other from the beginning. Oh yeah. Brian was handing off all the leads to Mike, and Murry would have preferred Brian to hand it off to his own sons. He wanted his family to have the power and be the dynasty. He couldn't relate to any of us.
Tell us about bringing "Cottonfields" for the band to record. It was a big hit in England.
Yeah, I know. I wanted another "Sloop John B." I tried to introduce a country influence, and I don't think that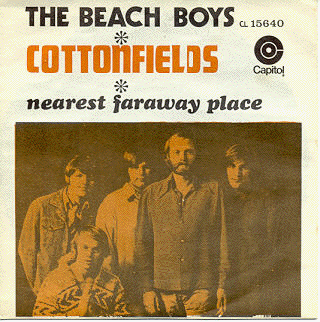 it worked 'cause people weren't into country at the time - steel guitars, Red Rhodes on steel guitar. I think it sent the wrong message to people. I wanted to use the live band, which I did, which I think worked kind of good. Dennis agreed. He thought it was a good idea. So he went in there and played for me, and the guys went along with it. We went into Sunset Sound and we all set up and played it live. It was really good. But again, sonically it didn't come out crisp or sharp. And it's undefinable. I don't know how Brian got those sounds.
In 1967, the Beach Boys were slated to play the Monterey Pop Festival, but the band dropped out at the last minute. Was it a mistake not to play the festival?
Oh yeah, we should have played. Just politically it didn't work out. We were having problems with whoever was running it at the time. I think our management was having problems with their organizers.
At that point, the group began to be viewed in music circles as passe, albeit you were writing and recording some of your best and most creative work.
Yeah, we should have done it. We ended up doing the Monterey Pop Festival in '71 or '72. That worked well for us. We were very well received there.
Speak about the band - you, Dennis and Carl in particular - starting to blossom as songwriters around the 20/20 album.
"Cottonfields" really started that. I showed it to Brian, and we did a very strange version of it on the album. The album version seemed kind of stilted and stiff and didn't;t have the "Sloop John B" magic that I was hoping for. Again, I was trying to capture that great Pet Sounds era that we had going. And it just didn't have it. I wasn't satisfied with it. So when we did the live version, it really worked. The steel guitar player, again, may have been taking it a but too far. I mean Beach Boys country really wasn't an exiting idea then. It did pretty good with that last outing [Stars And Stripes]. "Cottonfields" became a hit in England, South Africa, the Netherlands. We had to rudder a ship without Brian being there. He was in the studio with us, but he was retreating from producing. He started to underproduce like he did with "Break Away." Dennis started producing material, Carl did too. Dennis and Mike stated writing together too. Dennis was kind of scattered, but he found the piano as his instrument. He could lock into it with his feelings. It became a real lock, and all sorts of stuff started pouring out of Dennis that we didn't know existed. Part of him began to really focus. Dennis wasn't as fun-loving at that point. He became more moody. He was more into his music. That was the Manson period too. He got involved with that.
Were you frightened by Dennis' involvement with Charles Manson?
No, it was just irritating 'cause they were always around and it was "Charlie this, Charlie that." And then he had this little thing that he and Charlie worked out. It was just a melody, a melody in "Never Learn Not To Love." Not the melody, but there was a mantra behind that. Then Dennis wanted to put it in everything. I though, "Oh boy, this is getting to be too much."
Friends was the Beach Boys album where you really began to blossom as a writer. You co-wrote five songs on that record.
That was Brian and I really coming together as friends. We'd always been friends, of course, but we were obviously seeing more of each other at that time and our relationship as a writing team just blossomed. He opened up to different people. It depended on who was around at that time. I was around a lot at that time at the house in Bel Air. "Friends" was a nice one we co-wrote. It was the title of the album, and it's all about being friends. We'd go play and write. Brian would take the keyboard, and we'd just talk it out.
Please comment on "Wake The World."
Same thing, same period of time. We were just sitting around in his kitchen. This was the mansion in Beverly Hills. We called in the Bellagio House. It was where we did all the recording. We'd get together in the morning. A lot of activity took place in the kitchen. There were these huge freezers. We were always in Marilyn's kitchen. We were in there as much as in the studio. God, we ate well. "Be Here In The Morning" was another good one. Carnie wants to sing that one stage. She sounds great on that.
Brian has often sited the Friends album as a favorite of his.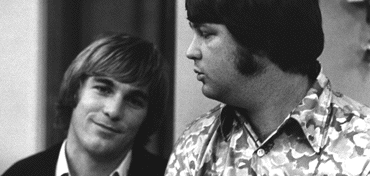 Maybe because it was an emotionally stable period for him. He was feeling a little bit better about himself. I remember him being pretty stable and happy then because we were obviously working together and he was still being very creative. He was always thinking musically and needed someone to bounce lyrics off of, a sounding board. Brian was real manic in the sense of wanting to get songs finished. I was that way too. He just wanted to get something finished because the guys would be coming over every day. We'd always go over to the house every day. I think Brian was looking for a new direction too. I think we both found the same path and kind of explored that path.
"Transcendental Meditation."
That was a silly song. It was not my favorite lead. I think we poked some fun at TM.
What did TM do for you and the rest of the band?
It was good. It kind of settled everybody down a little bit. Dennis never bought into it. Brian actually found the technique. He's the one that actually turned us on to it. Mike became addicted to it. Both Brian and Mike have similar unsettled emotional feelings, and I think that is his medicine. Otherwise you reach out for drugs if you're not careful. So it's kind of a good substitute for drugs.
Was the tour with the Maharishi Mahesh Yogi a mistake?
It was just a disaster. I mean literally no one showed up... I guess Maharishi thought that we were the Beatles and that we'd bring all these people into the halls to see him. He was obviously using us as a magnet, and it didn't work. He was billed pretty highly too, and I think people didn't see that as a good mix. It wasn't the proper billing. I don't know that he got top billing, but he got equal billing, I'm sure.
The Surf's Up album carries an ecological and environmental theme. "Looking At Tomorrow (A Welfare Song)" may be one of the best songs you've ever written.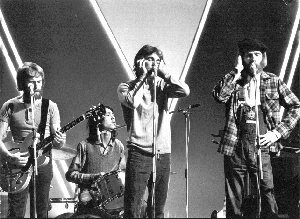 Aw, thanks. It's actually an old folk song. It came from the archives of folk music. I just rewrote the lyrics to reflect the times that I felt were particularly rough for Americans that were out of work and still are. It's kind of timeless. I remember reading something about Bessie Smith, the blues singer from the '30s, and I just kind of imagined her as being the figure in this tragedy, being down and out and then finding success at the end of her life and being able to look at tomorrow without looking back. We just performed it this year at Strawberry Festival, and it sounds so good. Our band is so good now that they just brought it up to another level.
Did you always have a great love for the environment?
Oh God yeah. That's why I moved to Big Sur. I wanted to get away from all the traffic and the pollution in L.A. It was always so congested there. My house looked out at all the smog. All I could see was the smog. I mean the Pacific Ocean was obscured by this brown haze. It really bummed me out to look at the air. It didn't take too long to figure out we were breathing it of course, so we scurried up north where the air gets cold and it's kind of pretty and clear. Big Sur is gorgeous.
"Take A Load Off Your Feet" is a fun song.
I never expected that to be on the album. That's just ridiculous. I don't know how that ever wound up on there. I invited Brian to come down. Again, a lot of this stuff was to get Brian in the mood to come down and have some fun. So I thought, "Boy, this is really nutty. Let's just do something stupid." I said, "Brian, do you want to help me?" "Sure." Anything to get everybody motivated. It's cute, but come on, you've heard "Loop De Loop" and things like that. That's as minimalistic and sappy as you can get. But for some reason Jack Rieley liked it too and said, "It's got to be on the album. That's definitely an ecology song." "Ecology? A song about your feet?" It's personal ecology. It was about taking care of your feet, and oddly enough my feet are in the worst shape they've ever been. And I haven't been wearing my Bierkenstocks.
Sunflower is sited by many, next to Pet Sounds, as the band's greatest achievement. Indeed, it was a major triumph for the band sans Brian, who was involved on a much lesser scale.
We started to take over the production. Brian simply wouldn't come down from his tower anymore. We had to finish a lot of work. "It's About Time" was Carl, Dennis and I. That's a good one. I like that production. That was mostly Dennis, and I just helped with the lyrics. Dennis and Carl did the track. It was a very powerful track. It was very well done. "Our Sweet Love" was one we finished with Brian. He just didn't want to finish it. So we kind of helped. We became completers of ideas. We all worked on his songs from time to time, and then we'd put them on the shelf. You start a song and put it away, start a song and put it away. It is a very good album. Again, we had some sonic problems, but on that album I think we overcame some of the sonic problems. That album was a smattering of different studios, that's probably why it had an interesting texture.
"At My Window."
That was probably one of my first efforts at involving the other guys. Bruce was around quite a bit. I think he sang the lead on that. I have this dim recollection of writing it and Bruce singing it and Brian trying to speak French in it. It had a nice tone to it. We had an accordion player come in and play some beautiful things on it.
Share the experience of going to the Netherlands to record the Holland album.
I resisted going from the very beginning. It was Jack Rieley's idea to go to Holland. He was enamored of Amsterdam because he had certain relationships there that he was fulfilling. We weren't aware of his hidden agendas at the time. We had no reason to go there. We were quite happy where we were. But we did feel the need to move on and do something different. It wasn't my preference to go to Holland. I think we talked about going to the south of France because that's where the Rolling Stones had recorded. That sounded a little better to me. So this Holland idea sounded crazy. He talked mainly Carl and Dennis into doing it 'cause Brian didn't want to go anywhere. He could have cared less. In fact when he got there, he never came to the studio. He just stayed in his house most of the time. We stayed in Holland for a month, maybe two. It felt like a year. My son Adam was there
for a short time and fell down a flight of steps, scared his mother half to death, so she packed up and went home.
Does the Holland album stand up for you?
Again, it was one of those homemade studios and again we fell into the trap of trying to build a studio in someone's garage. It's kind of a romantic idea, but it doesn't work 'cause you don't have the limiters and compressors and equalizers and all the good stuff. In fact the electrical current wasn't even right, so the sonic quality wasn't that good. There were a lot of problems. It was very expensive, and no one would listen. In today's equivalent it probably would have cost millions of dollars. I like the "California Saga." It was born out of just absolute home sickness. It was more of a "get me out of here" kind of song, "I wanna be in California." A lot of good stuff comes out of being homesick and just wanting to be somewhere else.
I understand a famous comedian really loved your song "Susie Cincinnati."
Yeah. John Belushi loved the song. He just worshiped that thing. He came up to me and did that "I'm not worthy" thing and said, "I just love that song." I said, "Thank you very much. Can I sing it for you?" I think we were doing our 20th anniversary special in Big Sur, and they came up to visit the ranch and that's when he told me how much he liked the song. You'd see him as this big crazy guy running around with samurai swords, but he was really a gentle guy. Peace-loving guy. The song was about a gal I met on the way to a show in Cincinnati. Again, trying to get everybody motivated to do something at Brian's house was always a goal. So I said, "Come on, let's cut this track. I've got an idea." So all the guys were just sitting around and waiting for something to do. It's nice to have a pool of musicians who can for that. The engineers were waiting, waiting on something to get done, so we did it. It was kind of a workshop on progress, that's really what these albums were.
Alan, tell us about coproducing the Beach Boys MIU Album.
At that time Mike and I were into transcendental meditation in a very big way. It was his belief that if we brought Mohammad to the mountain that Brian would recover from his illness. Mike was certain that TM was the answer. When he finds something that works for him, he thinks that it will work for everybody. But that did not transpire. But to answer your question, we did yet another Holland adventure, which we'd already been through and built yet another studio for someone else. This was in Fairfield, Iowa. Yeah, go figure. That's where the Maharishi International University is located. It's a beautiful place. I'm not putting it down at all. I'm just thinking how we seem to finance all these incredible studios. We're kind of like the United States Army. We go and occupy and leave all these great improvements. [laughs] Working on that record was great. It gave me a chance to experiment again. But again we were dealing with lackluster equipment. It was stuff that had to be broken down and transported. But at least we were dealing with the right electrical current, unlike what we dealt with for the Holland album.
Were the songs up to the band's standard?
Well, if you notice, the production is real light. We just didn't have the technology to make a really good record. But I think the kernels of the songs are good. There's some really good stuff there. I really like the song that Brian did, that little ditty called "She's Got Rhythm." "Hey Little Tomboy" was another good one. But if you listen to them, they sound like demos, something you could do in your own home.
And "Come Go With Me" is on the record too.
That wasn't done there. It was done at a real studio in Los Angeles, and that's why it sounds so good. And that's why I put it on the album, to rescue the album because I could see right through the veneer that we were creating that there was nothing there that was sonically very interesting. I took the liberty of putting "Come Go With Me" on there because it had solid production values and it stands out. I started the track at Brian's house where we left off on the Smiley Smile album. It was actually recorded during that period when we were waiting for somebody to show up and nobody shows up and somebody had to take the leadership reins. So I
began the song just by sitting around and playing the piano in Brian's living room. In fact the remote truck was there and apparently our sound system was out on the road, our P.A. system which doubled as a recording console. So Brian ordered the sound truck. We were going to do something with it. It was just sitting in the driveway, and we were paying for this thing by the hour and day. So I started the song there and then I moved over to Sunset Sound. We recorded the horns there. Wally Heider had a studio out there in Los Angeles. So we went from good to better to better. Had we not been out of the country at the time I think I might have gone to #1. But we weren't around to promote it. We left the country for a tour and came back and it was Top 10. There was a dance show that was on and we had done that I was assured it would go Top 5. But we were so tired after the Europe tour that I though, "Geez, I don't want to drag the guys back into the studio the day after we got home. Actually, we might have just gotten back from South Africa.
Dennis' vocal showcase, "My Diane," is outstanding.
Brian wrote that and Dennis sang it. Dennis had a very powerful voice. I didn't really appreciate while as a Beach Boy, but when he began to spin off doing his own material, it really stood out. I think Dennis' work transcended a lot of what we did. I don't know about Pacific Ocean Blue as a total project, but some of the songs on there were really good.
The Beach Boys Love You is one of the quirkiest Beach Boys albums and one of my favorites. How do you feel about it?
That's quite interesting that you would notice that one because it's quite unheralded. Again, it was like a demo. We did it in another studio that we built in Santa Monica, again from spare parts. When I finally built my own studio in Big Sur, the guys didn't want to come. I couldn't believe none of the Beach Boys wanted to come - by then Brian didn't want to leave. After the Holland album, can you blame him? [laughs] There's some gems on Love You. I co-wrote "Good Time" with Brian. [Starts singing some of the song]. That's a typical Brian track, kinda goofy and zany. It was really really a lot of fun doing that.
How did you come up with the idea for the classical-sounding introduction to "Lady Lynda"?
A friend of mine, Ron Altbach, he and I decided to write something together. I was familiar with his love of classical music. I was at the Johann Sebastian Bach festival up here in Carmel which happens every summer up here. I heard that beautiful piece sung at the Mission Cathedral here in Carmel. Gorgeous piece. It's called "Jesu Joy Of Man's Desiring." It was written for the church. When I heard that movement I went, "My God, that's too

heavy! Maybe I can start the song with this thing." [laughs] Ron is such a great player that it just worked. We had to hire a classical guy to play an absolutely beautiful harpsichord that was brought in just fro the occasion. It was a monster session with a 26-string orchestra, the harpsichord. Harry Betts arranged the strings. I can't remember if Dennis played the drums. Dennis helped me with the track. We played it live at a couple of places before we recorded it. I think he played drums. I did that 12-string guitar. It was a beautiful 12-string guitar that i still have. It would have worked better if it had been on my own album, but it certainly worked. We always seemed to be five people making five different albums on the same album.
Tell me about the band's 10-minute disco rendition of "Here Comes The Night" that appeared on the record.
We performed it once and we were booed. We actually received such criticism that we never played it again. I hated that track. It was one of the worst experiences of my like recording anywhere, but Bruce has this idea to do the perfect disco record, which of course none of our fans wanted us to do. I like the original song, but this pandering to disco did not work. Curt Becher, who was really quite a producer and musician in his own right, it was really a labor of love for those guys. They wanted every note perfect, and it had to be right on the right beats per minute, mathematically created for disco. But that disco sound didn't suit the Beach Boys at all.
If I put it on right now would you leave the room?
First I would probably burst out laughing because it was so unlike anything we'd ever done. It was a good lesson for us that pandering after fads does not make for a successful recording, no matter how good it is. And I have to say that it was technically damn good, [laughs] but you just have to follow your hear and not the fad.
Another great tune is "Santa Ana Winds," a track of yours that appeared on the next LP, Keepin' The Summer Alive.
It was such a wonderful experience doing that record. At the time the Santa Ana Winds didn't connotate anything particularly negative. I always thought of them as a harbinger of Indian summer, that late wonderful dry wind that comes off the desert. Unfortunately, it happens to make the environment perfect for forest fires. So it's kind of got a bad rap, not the song but the subject. I found it a very romantic subject, because to me growing up in Southern California, you get summer twice. It's such a natural force of nature. It really does clean the environment up. Just for a few days you can feel what it might have been like 100 years ago, 1,000 years ago. And also you get that offshore breeze which keeps the waves big for surfers. It's just magical.
You revisited California with "California Calling" from the 1985 Beach Boys LP, and Ringo Starr plays drums on that track.
Wow, I totally forgot about that. The producer, Steve Levine, was from England, so apparently he was able to get him to play on the track in England. I co-wrote it with Brian. That album was such a difficult project for us

because it was the melding of certain forces. Unfortunately, Steve was so dedicated to computers that we weren't able to sing very much. It was like, "Okay, sing a verse or a chorus and I'll just put in all the 'oohs' in later. I'll multiply that add infinitum." [laughs] We would say, "We can sing the whole thing, really Steve." And he would say, "No, it's better if I do it this way. Plus i can pitch correct it, and you guys will be perfect." But again a perfect-sounding record does not always make for a perfect result. I have to admit when we were working on the LA (Light Album) and we were working with Jim Guercio on the song "Good Timin'," a beauty. And Jim wanted us to quadruple-track our vocals. We were triple-tracking everything, which I thought was okay. But then when we got into quadrupling I thought, "I'm on the way to Monterey." [laughs] Jim is a great producer and he really does get a great sound. But as the engineer for Steve Levine, all he had to do was put as many voices on there as he wanted. But then you don't get the diversity of the part because it's the same part multiplied over your own part. The character's gone. We do fatten [vocals]. If you're flat or sharp even, it flattens the harmony vocals on the overdubs. It may not sound great by itself, but when you blend it all together it starts to sound really big.
Dennis, Mike and Carl did solo records in the late '70s and early '80s. Were you ever tempted to do one?
Not at all. I was plenty busy enough with the Beach Boys. I wanted to get back to nature. What little life I had outside the recording studio, [laughing] why would I want to go back in yet another recording studio? You notice only one of the guys had any real success with their solo projects and that was Dennis. I just figured that we were better together than apart.
Carl's solo albums are quite good.
Oh yeah. Carl really wanted to be a rocker in the spirit of John Fogerty [sings "Rockin' All Over The World"]. He was trying to rough up his voice a little to get the growl. He had this natural, sweet voice which was excellent - that voice was so rich. He wanted to just dirty it up and go for the rock. He wanted to do rock n' roll.
So Carl could sing rock n' roll in the Beach Boys but couldn't be an out-and-out rocker in the band?
Right. We weren't rockers that way. We were tunesmiths. We were like the horn section for Brian. We were like a very finely tuned instrument. Doing his solo albums, Carl could get out of that envelope for a little bit. I was comfortable there. I enjoyed being a team player because, God, where would you find better music to sing to? It was so much fun. And also the personal challenge of writing a few of those.
While the success of the Endless Summer album rejuvenated the Beach Boys commercially, did it also impinged on the band's creative side?
It put us back on the map, geez did it ever! It also established us as what we are today or what is has become today, and that is kind of a party band primarily focused on the surf music and the good time stuff, which is fine.
From that period on, particularly in Mike's mind, it seemed the seed was sown that because the album of oldies was so successful, that was the direction the band should pursue.
Absolutely, you're 100 percent right. His instincts were, "If it ain't broke, don't fix it." It seems to work even today. But from a longevity point of view, my instincts tell me that you need to go into the catalog a little bit and preserve some of the gems before they're forgotten. Like some of the albums you mentioned to me, albums I should revisit. Capitol's reissuing them - Sunflower and Surf's Up. A few of those will be coming out as two-fers in the very near future so they can recapture some of the fort.
Let's go back to the Beach Boys' induction into the Rock And Roll Hall Of Fame. It was a bittersweet night. It was an amazing honor that was lessened by Love's bizarre speech. What are your memories of that evening?
It was one of the early inductions. It was such a monumental event because of the magnitude of the stars that were there. It made us feel almost humbled by it. It was the Beatles, Bob Dylan, The Surpremes, The Drifters who were inducted. So many great stars. John Fogerty was there, Mick Jagger, Jeff Beck, Bruce Springsteen, Elton John, who inducted us, Billy Joel, Paul Simon. The stage was so jammed when we did the jam session at the end that I didn't even run into Paul Simon. It was awesome to be inducted. It was a mixed pleasure. Brian opened up with a speech of his own, written by his surrogate father, Gene Landy. The nutty professor, Gene Landy, who ended up

writing a book with Brian. He scripted everything Brian did and said, so it was a little bit unusual and stilted. There were words there that Brian never uses in his speech. I could tell that. Then Mike was just dying to get to the microphone. As we were leaving the stage it seemed as if - Carl was trying to get us off the stage so the next artist could get inducted. Bob Dylan was waiting in the wings. Mike just drifted back to the microphone telling everybody how fucked it was that people that were still living weren't there, like McCartney. I'm not really sure what to this day he was trying to accomplish other then maybe the politics of the record business were not to his liking. But this was not an event to discuss the politics of the record business. That's a discussion you have at another time.
Were you, Carl and Brian embarrassed or just plain angry by his speech?
Of course, both. I remember meeting Dylan backstage and Bob saying, "What's going on?" [laughs] He said, "I'm sure glad he didn't mention me." [laughs]
When you returned to your table, did you say anything to Mike about his wacky speech?
He was sitting next to Muhammad [Ali] so I didn't want to start anything. [laughs] Just kidding. But I immediately went over to George [Harrison] and Ringo and I said, "Geez, guys, I really want to apologize for that speech. My partner's not feeling to well." I said something to that effect. [laughs] They put their heads on my shoulder. That was really touching. When I was leaning down between them Ringo just kind of came over and put his head next to mine. He said, "Oh that's okay, we love you guys." George did the same thing. They were really nice.
Speaking of the Beatles, share your meeting with John Lennon back in the late '60s.
A the time we were in England. The Maharishi Mahesh Yogi was speaking at a conference over there. He had recently initiated the boys into TM. They were so taken by it. Maharishi being a brilliant promoter and one who knows how to convince people to do good. Honestly I think the man is saint, he really is. But he had a way of getting people to spread the word. So he got the Beatles to recruit the Beach Boys. [laughs] So they came up to my suite at the London Hilton. I get this knock at the door and i said, "I wonder who it is." I open the door and there's John and George standing there. "Hi mate, do you mind if we come in?" I said, "Sure, why not, heck yeah." We introduced ourselves to them. Lynda Jardine, my first wife, was there. And lo and behold here comes this speech. They were proselytizing on behalf of TM. They suggested that we get involved with the program and that they would see us later in Paris because they were going to be with Maharishi at this huge concert we were doing for Unicef Emergency Children's Fund. We played there and all four of the Beatles were sitting in the front row with the Maharishi listening to the show. I wish the meeting with John was a musical one. I wish he brought his guitar up and said, "hey, let's write a song about meditation." I'm sure it would have been a lot better than what I sang on the Friends album ("Transcendental Meditation").
In out conversation, you've spoken a lot about Dennis as a musical artist. How about sharing a fond personal moment with Denny.
Standing outside of a bowling alley in Hawthorne, Calif., singing folk songs. Singing one in particular that I sill like.

I swear to God every time I see a mandolin like the one you showed me at your house, he just loved when I played guitar or anything. This was in the early '60s. It might have been after I left the group for a while. We'd stay in touch and I'd always come by and I'd sing on a few songs on the early stuff as well. I sang backgrounds on a lot of the very early things even though I wasn't on the album covers. There was one called "Lonely Sea," a beautiful plaintive song. A bunch of stuff like that. Dennis couldn't wait for me to get my guitar or mandolin and start playing a folk song.
How would you characterize Mike and Dennis' relationship? Was there friction even in the beginning?
Oh constantly, constantly. It was which testosterone meter was the highest. It just went on and on and on. Constant competition. hen Mike talks about competition on stage I'm sure he's referring to Dennis. They were just at it all the time. Those first cousins had quite a battle to fight all the way up until the end. Remember that Dennis cut his hand in the '70s. It was Malibu and he dropped the darn thing and he tried to catch a Sparkletts water bottle and it cut his hand wide open. He couldn't play for a year. His solution was we hire another drummer, and that was Bobby Figueroa, who plays with our band now. Dennis would take the microphone with Mike up on stage and you can imagine the competition that goes on there. Oh God, and he began to sing some great songs. There's a song he claims to have written, "You Are So Beautiful." He told me he coauthored that with Billy Preston at a party.I believe that Dennis probably did write the lyrics to that. It's just pure Dennis Wilson, but he didn't get credit for it. He was competition for frontman. Dennis would infuriate Mike by simply standing up. Without saying a word he'd stand up and the audience would release an incredible amount of energy. Similar to Ringo when he would do some antics on the drums. The girls would go crazy, and Mike would have take a little bit of humility and continue to work like the rest of us as a team member. After a while Mike and Dennis learned to coexist like on the 20/20 album and a couple of those later projects. They did write some very inspirational things together.
From a purely personal standpoint, can you cite a Beach Boys album that deserves reappraisal?
Oh that Love You album has some gems on it. That's the one. It's a shame that the album cover is so crummy - everything about that thing is homemade. I think they thought it was our last album. I think it was issued as our last album for Warner Brothers. And when we went over to sign with CBS, they checked their agreements and we owed them another one. [laughs] They didn't spend a penny on the Love You album because they knew that we weren't coming back. They used real cheap cardboard for it. But the music, you wouldn't believe it. Ed Carter played on that. He's in our band now too. "The Night Was So Young" is a favorite.
One of the most beautiful moments is Carl's singing on the bridge.
Oh God, isn't that a remarkable bridge? With that little tempo change, it's beautiful. It is Brian and Carl at their best. And also "Good Timin'." Those two wrote together or sang together - Brian would use Carl as his surrogate as he did Mike for many years. Dennis and I were kind of on the outside looking in on a lot of those great ones.
Tell us about the Jardines project you are working on with your sons, Matt and Adam.
We have started recording. We've started tracking up at the studio in Big Sur. I think it sounds really good. We've only scratched the surface, Ken. So I'm going to go and review those tracks. We've cut six songs. They're simply works in progress. There are contributions from Matt and Adam primarily. I'm trying to get behind their writing. There's one or two of mine. There's one in particular that I like that Matt has done. In general I would say they're ballads. I'm trying to write more ballad-type songs as opposed to rockers right now. But we definitely should have some rockers in there because coming from a singing background we tend to emphasize the vocals. A lot of people love those rock n' roll songs. But they're sometime the hardest things to write. You really need a rock n' roll band to write around to do that. Right now we don't have a band as such other than Family and Friends, and they're all in Los Angeles. What we tried to do when we get together up here is do a drum track. My engineer plays drums, and we use him as well. Our strongest material will be the ballads obviously and California-oriented tunes. I'm trying to finish up another trilogy to the central California coast that I've worked on. It's since surface on a bootleg album. I wasn't even aware of it until it was sent o me from Los Angeles by Steve Kalinich, another wonderful lyricist who co-wrote some songs with Brian and one he did with Dennis Wilson called "Little Bird." The fact that it wound up on a bootleg makes me wanna get it done. Makes me wanna finish it, because it bugs me when I hear unfinished things pop up on bootlegs. It was a vinyl bootleg, and I don't think it's ever surfaced again, thank God. It's called "Looking Down The Coast," and it's something that literally describes the coast as I see it. I'm even incorporating some stuff from the '98 storm that took out our entire Highway 1, which was just lost into the ocean.
Do you ever foresee a time when you'll play onstage with Mike and Bruce again?
I think it could happen. I don't see why not. I'm always open to making things work because I believe in everyone being there for the public. But thus far it has been taken out of my control, so that's why I'm doing what I'm doing.
The Beach Boys word association
Alan Jardine's comments about people associated with the Beach Boys:
Brian Wilson: A tortured genius. Pal. School chum. A good friend. We grew up together in Hawthorne.
Mike Love: Corporate genius. Never got to know the guy. I still don't know who he is. I think Mike is different things to different people. I just don't know the guy.
Dennis Wilson: You got what you saw with Dennis. He was real in your face and honest. Great friend.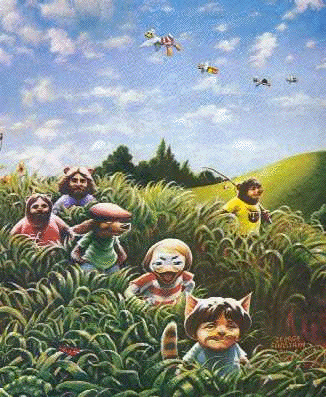 Carl Wilson: Same thing. Carl was more black and white, extremely black and white individual. Big heart. Generous to a fault. He had very set ideas on how he saw life.
Bruce Johnston: A terrifically talented individual. Great songwriter.
Nick Venet: He was our first producer and quite frankly brought the band to our first hit record.
Nick Grillo: Nick was a corporate manager.
Murry Wilson: Frustrated songwriter and a gentleman.
Blondie Chaplin and Ricky Fataar: Really great talents from Africa. Ricky's a fabulous drummer and Blondie is a great guitarist who is now working with the Rolling Stones.
Roger Christian: Great car lyricist. Great car fanatic.
Gary Usher: He was the first one who brought the Beach Boys to cars with "409" and then it was Roger Christian. Gary was a very good lyricist.
Terry Melcher: A real gentleman from the Monterey Peninsula.
Tony Asher: I loved the lyrics he wrote for Pet Sounds. Great lyrics.
Van Dyke Parks: Genius poet.
Glen Campbell: Glen Campbell had all his teeth filed down and replaced with crowns because he knew he was gonna be a star. Seriously, he had all of his teeth perfectly finished.
Jack Rieley: A real fraud from the Netherlands.
Eugene Landy: Same thing. Landy might have had an edge in the fraud department.