Brian's Back
This article originally appeared in Newsweek, July 19, 1976.
The Beach Boys have long been celebrated for their sunny harmonies, but at the moment they are under a cloud named Brian Wilson. Brian, the oldest of the group's three founding Wilson brothers and its driving creative force in the '60s,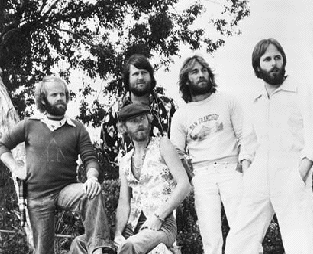 had not toured with the group since he suffered a nervous breakdown in 1964 or been actively involved in their recordings for years. Recently, he has remerged on both fronts - like so much stormy weather.
This month, the Beach boys released their first studio album in four years, called 15 Big Ones (after the length of their career). Produced by Brian, it is their most troubled recording - an uneasy blend of mirthless oldies by other composers and obsessively lighthearted new songs, mostly by Brian. On the July 4 weekend at Anaheim Stadium, the second stop on their current national tour, the group kept a sellout audience screaming for more. But unbeknownst to the euphoric crowd, Brian, who huddled virtually unrecognized at the piano for most of the evening, had had to be coaxed onstage by his psychiatrist. Moments before the concert began, Dr. Eugene Landy whispered to the hulking, 6-foot-2-inch Beach Boy: "Come on, Brian. Just take a look at what it's like."
Whether Brian, who is now 34, likes what he sees is one question; whether the Beach Boys really need him back is another. Fifteen years ago, Brian commanded the undivided loyalty of his two younger brothers, Dennis and Carl, a cousin, Mike Love, and a high-school friend, Al Jardine. He wrote or co-wrote all the group's early hits, expanded on the Four Freshmen's harmonies to introduce a choral sound to rock, and became one of the first musicians to produce his own records. Brian was also responsible for much of the Beach Boys' disarming innocence, injecting a note of unrestrained longing into the group's surfer-boy machismo. In songs like "In My Room" and "Caroline No," he seemed as baffled by the Beach Boys' easygoing euphoria as any landlubber in Nebraska. He was reclusive and ungainly and his own frailties underscored the unattainability of the Beach Boys' hedonistic American dream.
Resourceful: After his breakdown he began experimenting with LSD, as is evident on his dizzyingly masterful "Good Vibrations," and would make occasional frightening public appearances (in 1974, during a set by jazzman Larry Coryell at the Troubadour in Los Angeles, he leapt onto the stage wearing a bathrobe and slippers and sang "Be-Bop-A-Lula"). But Brian's absence forced the rest of the band to become more resourceful; Carl Wilson evolved into a superb producer, and all of the Beach Boys have now become composers in their own right. Still, their work without Brian was never as commercially successful as it was under his aegis: their recording hiatus since their last album, in 1972, was brought about in part by the intimidating successes of Endless Summer and Spirit Of America, two reissues of their early material.
Brian's return - which he reportedly undertook at the insistence of his wife, Marilyn - has divided the group sharply. Much of the debate centers around the new album, with its hybrid format of borrowed oldies and somewhat flaky originals. Jardine and Love were all for letting Brian take full charge, even though Love makes no secret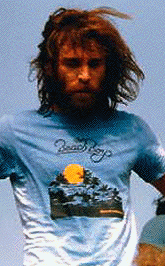 of resenting him. Love, who jumped rope to get in shape for the tour, recently declared: "I'm not going out on the road like some broken-down rock star."
But Brian's brothers strongly objected to releasing the record. Soft-spoken Carl, always the diplomat of the group, says he was "depressed" after 15 Big Ones was completed. "We were heartbroken," says Dennis. "People have waited all this time, anticipating a new Beach Boys album - I hated to give them this. It was a great mistake to put Brian in full control. He was always the absolute producer, but little did he know that in his absence, people grew up, people became as sensitive as the next guy. Why do I relinquish my rights as an artist? The whole process was a little bruising." And they all shared misgivings about Brian's competence - enough, according to Jardine, to sneak into the studio at night and add extra background vocals to the songs, which Brian had wanted done "dry."
Harder: Their misgivings are understandable. Just before the tour, Brian arrived for an interview with Landy, his live-in psychiatrist, stared blankly ahead throughout the discussion, and lit cigarettes with shaking hands only to jab them out almost immediately. The Beach Boys, he insisted in a monotone, "are the real big group of the '70s. There's no doubt about it." He described the new album as "nothing the deep," but said, "We're going to do another 'Good Vibrations' next time around, another masterpiece. Material is getting harder and harder to write all the time for me," he added. "I don't know why. It just is." He attributed whatever creative ability he has left to his use of "uppers."
Carl and Dennis are largely right about the inadequacies of 15 Big Ones, but it's a fascinating album, an unwitting dramatization of the discomfort of aging rock stars with their music. The oldies ("Blueberry Hill," "In The Still Of The Night") are virtual dirges, and they seem apt farewells to the silly simplicities of bygone days. The new songs are sweetly teenage at heart, with hints of self-parody. Brian's vocals sound startlingly raw, and the selections are choppy. Nonetheless, the album has a curiously unshakable unity - as does the group. "There will always be a Beach Boys," says Dennis. "Being a Beach Boy is like being in love."
- Janet Maslin with Janet Huck